Generator is a lifesaver in the time of blackouts. You can also use portable generators when organizing an outdoor event in the wilderness. They provide you with much-needed power to power your electronic appliances. There are many options on the market if you want to purchase one. So, which one is better Duromax vs Champion Generator?
The starter system of Duromax is electric and recoil while the Champion comes with a touch electric start. Duromax generator is hard to move, while the Champion generator is much lighter. The generators of Duromax and Champion both are powerful and come with dual and tri-fuel compatibility. The Champion generator is noise friendly since it makes lower noise compared to Duromax's. However, both of them give you a 3-year of warranty.  
That's not all, there are other comparative features between them. Let's take a closer look at them in the article. Picking one will be easier if you know what to look for.  
Duromax Vs Champion Generator: Which Suppresses the Other?
Duromax and Champion has been locking horns for some time. These brands are familiar to anyone who frequently uses the best generator. Both are very popular among homeowners, outdoor enthusiasts, and professionals. So, people often wonder about which one to choose. 
| | | |
| --- | --- | --- |
| Factors  | Duromax  | Champion  |
| Manufacturing Country  | Made in China,Designed in USA  | Made in China,Designed in USA |
| Name Convention | Uses starting watts | Uses running watts |
| Power Output  | 4500W-15000W | 1200W-15000W |
| Build quality  | Excellent   | Excellent   |
| Fuel compatibility andCapability | Dual, Tri-fuel options withBigger Tank | Dual, Tri-fuel options withSmaller Tank |
| Fuel consumption  | Excess  | Less  |
| Starter system  | Electric start, recoil   | Recoil mostly |
| Portability  | Heavy  | Lightweight  |
| Noise level  | Low  | Comparatively Lower  |
| Running time  | 6-8 hours | 8-10 hours |
| Warranty  | 3-year, 5-year (HX, HXT, X/DX) | 3-year |
| Affordability  | Expensive | Relatively cheaper |
Factor 1: Manufacturing Country
Both Duromax and Champion generators are designed in the USA but are manufactured in China. Manufacturing in China is a common practice for many consumer products. 
So, both Duromax and Champion have established reputations for producing reliable and durable generators that are backed by strong warranties and customer support. 
Factor 2: Name Convention
Duromax uses the starting or peak wattage to name their model, while Champion uses running wattage. It's important because one of the first things you will notice about these brands is how they name their models. 
For instance, Duromax XP13000HXT has a peak wattage of 13,000 but the running wattage is 10,500. Champion 10000 has the same running wattage as the name suggests but it has a peak of 12,000W. 
Factor 3: Power Output 
Both brands offer a range of generator models with varying power output capacities. However, Duromax and Champion both manufacture powerful generators of up to 15,000 starting watts, with a slight difference in running watts. For example, DuroMax XP15000EH offers 12,500 running wattage while Champion 12000 can produce 12,000 running wattage.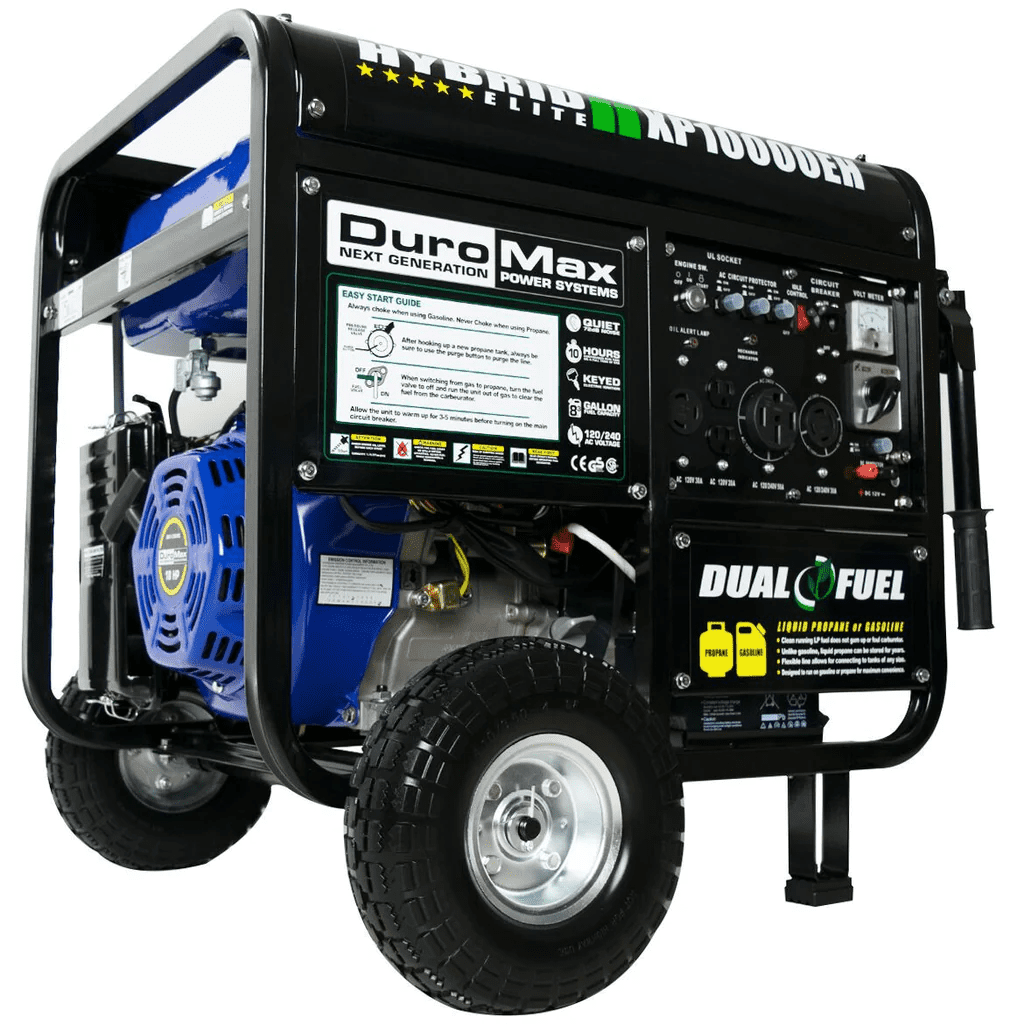 Regarding the low-end category, Champion offers generators producing as little as 1200 watts. Duromax generators start at 4500 watts of running power. 
Factor 4: Build Quality 
It is well known that Duromax and Champion produce excellent quality products. Both, Duromax and Champion are known for building products that are made to last. Their products are typically made from high-quality materials and are designed to withstand heavy use and extreme conditions. This makes them ideal for use in a variety of settings, including industrial, commercial, and residential applications.
Factor 5: Fuel Compatibility and Capability  
Both Duromax and Champion generators offer dual and tri-fuel compatibility while Duromax has more fuel capacity. That means the generators of these two brands can run on both gasoline and propane while tri-fuel generators can run on gasoline, propane, and natural gas or diesel.
Normally, the capacity of a fuel tank of the Duromax dual-fuel generator is larger than the Champion dual-fuel generator. Let's check the fuel capacity of equivalent generators from both brands.
| | | | |
| --- | --- | --- | --- |
| Duromax model | Capacity | Champion model | Capacity |
| XP13000HXT | 8.3 gallons | 10000-watt | 7.7 gallons |
| XP8500EH | 7.9 gallons | 7000-watt | 7.7 gallons |
| XP5500EH | 4 gallons | 4250-watt | 4 gallons |
Factor 6: Fuel Consumption
The tank of Duromax generator is bigger than Champion, so the fuel consumption is excess for Duromax. Actually, Champion and Duromax generators are fuel-efficient, and their fuel consumption changes depending on the size of the engine. Also, the load placed on the generator, and the type of fuel can vary the amount.
Factor 7: Starter System
Duromax generators possess electric and recoil starter systems while Champion generator mostly has recoil starter system. In fact, most of the consumer-grade products from these brands have recoil and electric start.
The starting method of the Duromax generator is very flexible since it has an electric and recoil method. All generators of this brand come with these two conveniences so you can start the generator in both processes. 
In fact, these ways can be very useful if any one of them stops working. It is easy to fix the electric start if it does not work properly.
On the other hand, Champion generators heavily rely on the recoil method, and only 50% of the product line has the added electric method. But on a brighter note, a few products of Champion have the facility of wireless starting with remote. The 7500W and 9000W models have this extra remote-start feature.
Factor 8: Portability
Compared to the Champion generator, the Duromax generator is more compact. In fact, both brands of generators have double handles and wheel kits, making them easy to transport. Let's look at the weight distribution of some popular models of these brands. 
| | | | |
| --- | --- | --- | --- |
| Duromax model | Weight | Champion model | Weight |
| XP13000HXT | 246 lbs | 10000-watt | 207 lbs |
| XP8500EH | 210 lbs  | 7000-watt | 175 lbs |
| XP5500EH | 136 lbs | 4250-watt | 90 lbs |
As you can see, Duromax generators are relatively heavy which makes them difficult to move around, especially if you need to carry or lift them for an extended period of time. Actually, it's best for using in the garage. 
However, Duromax generators come with wheels and handles, which makes them easier to move over short distances.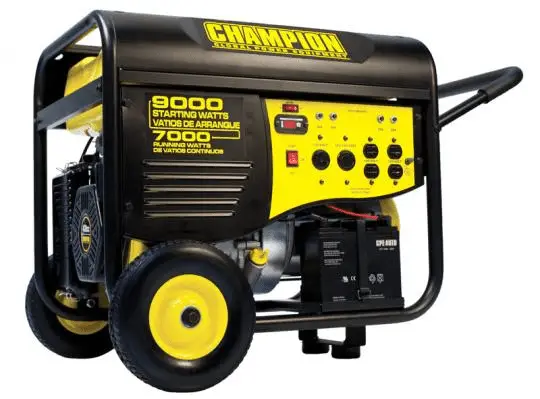 On the other hand, the Champion generator is lighter compared to Duromax. They are easy to move which is good for users who need to transport them over long distances. This brand's generators also have a built-in handle and are compact, so they are easier to store and transport.
Factor 9: Noise Level
Duromax generators produce low levels of noise, while Champion generators produce even lower levels.
You'll get low levels of noise if you purchase generators from any of the brands. People who prefer noise reduction must choose the Champion as your brand. For example, Champion 4250W has a noise level of 64dB while Duromax XP5500EH produces 69 dB.
Because of its low noise level, the Champion generator is an excellent choice for users in noise-sensitive environments, such as residential areas and campsites. However, the Duromax generator's low noise level may still be suitable for users who require a relatively quiet generator.
Factor 10: Running Time
Duromax generators can run around 6-8 hours on average, while Champion generators can provide you with a longer running time of 8-10 hours. 
Have a peek at the chart to get a more clear idea. 
| | | | |
| --- | --- | --- | --- |
| Duromax model | Run Time | Champion model | Run Time |
| XP13000HXT | 6.5 hours | 10000-watt | 8 hours |
| XP8500EH | 8 hours | 7000-watt | 11 hours |
| XP5500EH | 8 hours  | 4250-watt | 10 hours |
(Runtime Data is for running with 50% load)
Users who need a shorter period of time or who can refill the generator with fuel frequently should go for the Duromax generator. On the other hand, people need to run generators to run for longer periods of time without needing to refuel.    
Using a Champion generator is particularly helpful when there is limited access to fuel or when users require a generator to operate continuously for a very long period of time.
Factor 11: Affordability
Duromax generators are relatively expensive, while Champion generators are more affordable. Champion generators are a good option for users who want to save money or do not need a high-end generator.
On the other hand, Duromax generators are more expensive because of their higher quality, advanced features, and greater durability. If you want to buy any Duromax generator, you need to expense around $240 -$2,499. 
Then, if you want to buy Champion, the cost will be around $239-$2,284. This can be particularly beneficial for users who require a generator for heavy-duty use or who need a reliable generator for critical applications.
Factor 12: Warranty 
Duromax and Champion generators both provide a 3-year warranty for their portable generators. This is applicable for residential use only. For commercial use, Duromax provides a 1-year warranty and Champion provides a 270-days warranty.
The Duromax team has updated its warranty terms for special product lineups. They are offering a 5-year residential warranty and a 1-year industrial warranty for HX, HXT, and X/DX series generators.
Duromax Vs Champion Generator: Which One to Pick?
As both of these brands have been around for decades, it would be very difficult to choose between them. There are outstanding products produced by both companies. Personal preferences and needs will determine which brand is "better" for you.
 In case you are still unsure, however, Duromax is better for build quality and it will serve you for so long. Also, the users are very satisfied with this product. It appears that the reviews are positive.
However, there are some factors where Champion shines. For example, if you want to cut off extra expenses you should go for Champion. You can get a longer running time with Champion as well. And for people who hate noises like me, Champion would be a holy grail for you. 
Furthermore, Champion would be a great choice for you when it comes to usability and reducing fuel consumption. 
Overall, considering each and every factor Duromax is better if you really have to go for one. But you should choose according to your preferences. 
Also read: 11 Reasons Predator Generator Electric Start Not Working
FAQs: Duromax Vs Champion Generator
Which one is cheaper Champion generator and Predator? 
Champion is cheaper than Predator. If you want to have a cheaper one, the Champion 3800-Watt Dual Fuel Generator is a good choice. You will be able to get a lot of power from it. The downside of this option is that it is not very durable.
What are the differences between Champion and Westinghouse generators?  
You can operate the champion's generators from a distance. Also, the generator of Champion is easily moveable because it comes with wheel kites. On the other hand, if you buy a Westinghouse generator, you'll get an LED display and the generator is lightweight.  
Is Duromax a good brand for generators?
Yes, Duromax is a good brand. Three fuel options make it very convenient to use. You can also start them remotely. Duromax's generators are renowned for their reliability and durability at an affordable price. Many customers have been satisfied with their Duromax generators and have reported that they are easy to use and operate.   
Conclusion: Duromax Vs Champion Generator
Hopeful you have got enough information about Duromax vs Champion to make a decision. Choosing between these two brands won't be a tough job. Because both are reliable and good brands. 
It is also a good idea to look at reviews by both customers and industry experts to determine which model will serve you better in the long run.
Wish you all the best!