In most old cars, you do not have the option to plug in your phone via Aux audio cable or connect Bluetooth to play music.
In this article, I will tell you three ways you can play music in your car through your smartphone, without ruining the original look of your car or spending a ton of money on a new head unit.
4 ways to listen music in your car
Cassette to aux adapter
FM audio transmitter
Audio routing apps
Servicing old head-unit to add aux or bluetooth
Using a cassette to Aux/Bluetooth adapter or FM Radio Transmitter is a reliable way to enjoy music in your unsupported or vintage car. These devices are easy to use, reliable, and do not require any complicated configuration to begin using them.
Cassette to Aux Adapter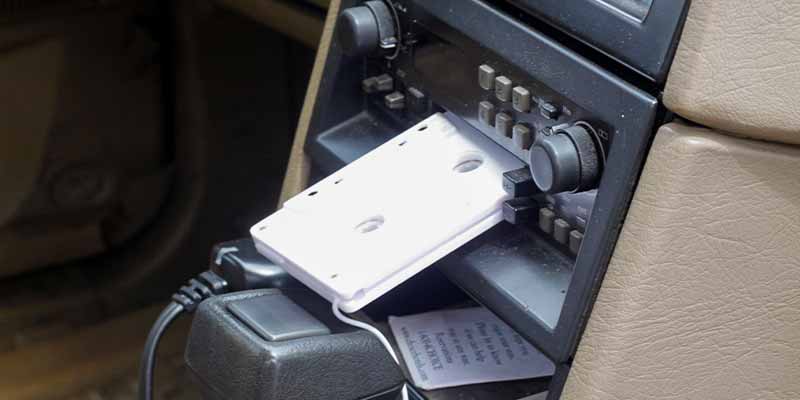 If you do not want to pull the old radio out of your car or spend money on a new head unit, a cassette to aux adapter is a perfect choice. It allows you to listen to music in your car without ruining the original look.
Cassette to aux adapters is widely available on Amazon for cheap. These adapters are plug and play, so you do not need to install batteries or configure any settings to begin listening to music.
What cassette to aux adapter do I recommend?
I have used an Arsvita cassette to aux adapter that I purchased for $10 on Amazon. The audio quality is decent for music, but I do not recommend it for phone calls. Since there is no external mic on the unit, you will be using your phone's mic for the phone calls.
If you want to use your phone for calls, go with the Bluetooth version on Amazon. This cassette adapter connects via Bluetooth and has an external mic for phone calls. Depending on your usage, you will need to recharge it after a couple of days or weeks.
If you are looking for the absolute best cassette-to-aux adapter, Sony CPA-9C is an excellent option. Sure, it costs $75 on Amazon, but it offers the best audio quality and reliability that no other adapter can match. 
What kind of audio quality can you get from cassette to aux adapters?
Although cassette tape is an older technology, it still sounds excellent. A good quality cassette adapter is indistinguishable from line-in and offers MP3-quality clarity with deep bass and detailed midrange.
Using cassette tape adapters eliminates the "tape hiss" because there is no tape. When using the adapter, turn off Dolby Noise Reduction (or similar settings) on your car to improve audio fidelity.
Does using a cassette-to-aux adapter damage the tape player?
A cassette-to-aux adapter has the same form factor as a standard tape. Using it won't cause any damage to the cassette tape player or tape head in your car.
Bluetooth FM Audio Transmitters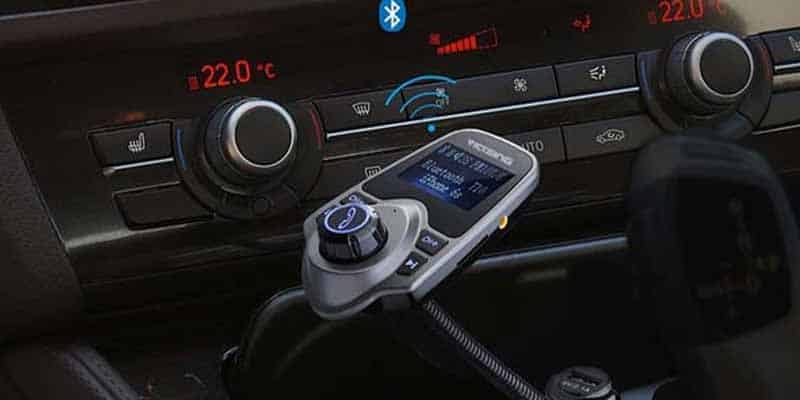 Bluetooth FM audio transmitters provide a convenient way to listen to music without replacing or modifying your existing car stereo. These devices work by transmitting the Bluetooth audio signal through radio waves to your car.
Bluetooth FM transmitters are widely available on Amazon from $15 to $50. These transmitters do not require charging since they plug directly into the cigarette lighter adapter.
What Bluetooth FM Audio Transmitter do I recommend?
I recommend this Nulaxy KM18 Bluetooth FM audio transmitter. It costs $25 and has over 100,000 4.5-star reviews on Amazon. Talking about features, it has hands-free calling, 1.4 inch LCD, a 5V 2.1A USB charge out port, and supports playback through Bluetooth and an sd card.
Sumind Bluetooth FM audio transmitter also costs $25 on Amazon. It has a bigger volume knob, aux audio-in, and two USB charge-out ports with QC 3.0 compatibility.
How to configure a Bluetooth FM audio transmitter?
Configuring a Bluetooth FM audio transmitter is very easy. First, you will need to set the radio frequency on the transmitter to anything other than your current radio presets. Now tune your car's FM radio to the frequency you set earlier on the transmitter, and you are good to go.
What kind of audio quality do you get from Bluetooth FM audio transmitters?
FM Audio transmitters sound just like a radio. You will get occasional skipping, interference, and hissing noise in your music.
Audio routing apps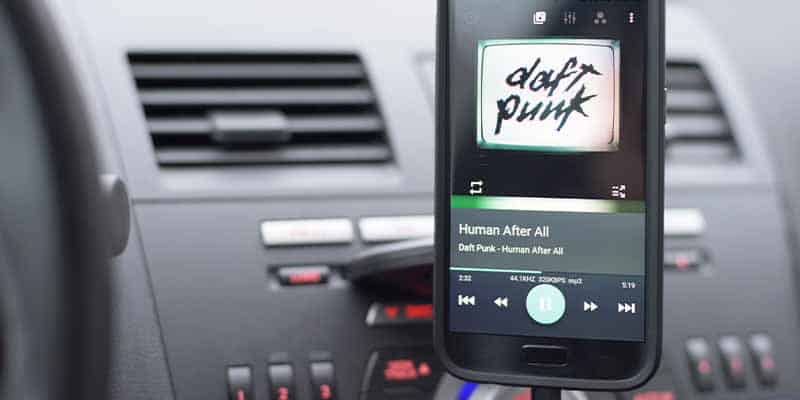 If your car only supports Bluetooth calling but not music streaming, you can use an audio routing app to listen to music. These audio routing apps work by tricking the car radio into thinking that the music coming from the phone is a call.
This app for android is free to use with ads. For less than $2 you can remove ads and continue listening to music in your unsupported car.
Similarly, A2DPblocker does the same thing for the iPhone. This app costs $3 and allows you to listen to music in your unsupported car.
Note: These apps might not work in the future due to changes in permissions for hardware/software in future software updates of Android and iOS.
Refitting Bluetooth/line-in in your original car stereo
Going this route is not suited for everyone. Especially if you do not want to jerry-rig or modify your existing head unit.
If you want to service your original car head unit with Bluetooth or line-in, you should check this article on Hackaday about modifying your car unit for Bluetooth or aux-in. 
Alternatively, automotive enthusiasts and car audio technicians offer to refit old car head units with aux-in or Bluetooth while keeping the original aesthetics. You can explore these options if your heart desires.
Which one is better? Cassette adapters vs FM transmitters
Here is a detailed comparison between cassette aux/bluetooth adapters vs FM audio transmitters.
Audio Quality
Cassette adapters might seem a lot older technology but, it provides significantly better and more consistent audio quality over FM transmitters. In my testing, I noticed that the cassette adapter provided a rich music experience with clear highs and tighter bass. On the other hand, the FM audio transmitter did not provide average audio quality, but it just sounded like a radio.
Verdict: Cassette to aux/Bluetooth adapters win when it comes to audio quality!
Features.
There is no configuration required for using cassette to aux adapters. But, you will need to configure the radio frequency on your FM audio transmitter to use it. In my opinion, this one-time setup should not affect any purchase decision.
FM audio transmitters offer more features, including USB charge-out ports, volume/playback buttons, and playback through aux, Bluetooth, or sd card. FM audio transmitters offer better hands-free calling with clear audio, whereas Bluetooth cassette adapters have bad microphones.
Verdict: Bluetooth FM audio transmitters win because of better hands-free calling and more playback options.
Durability
The durability of any product depends on its quality. If you are buying a cheap cassette adapter or FM audio transmitter, it will have poor audio quality and will break in a few weeks. Buying a good quality product ensures better audio quality and reliability.
Verdict: Both the FM audio transmitter and cassette adapters are durable as long as you buy good quality ones.
Aesthetics
If you want to keep the original look and feel of your car intact, cassette adapters are a clear winner. Unlike FM audio transmitters, cassette adapters do not add extra displays, knobs, and lights. Cassette adapters are discrete and stay inside the cassette player of your car.
Verdict: Cassette adapters are a clear winner. 
Price
Cassette adapters cost less due to their simpler design than FM audio transmitters. You can expect to pay $20 or less for a good quality Bluetooth cassette adapter. FM audio transmitters are expensive due to their complex construction and workings. A good quality FM transmitter will cost somewhere between $20 to $50.
Verdict: Cassette adapters are more budget-friendly.