Dirt bikes like WR 250F are ridden on off-road terrains for recreational purposes. But you may be wondering about riding in on the streets.
So, is it possible to have a Street legal WR 250F?
Yamaha WR 250F is not street-legal in most states and municipalities. This was designed to be an off-road dirt bike rather than a dual-sport bike. To make this bike to be street-legal, you need to modify it accordingly to the road safety rules. So, always contact your local DMV to know precisely the terms and altercations needed.
This short answer won't clear up your queries fully. So stay with the article to know everything in detail.
Is WR 250F Street Legal?
No, the Yamaha WR250F is not designed to be street-legal. From the factory, it is not street-legal and is an off-road motorcycle. To be an on-road motorcycle, a bike has to have an indicator light in the front.  This particular design lacks essential equipment such as turn signals, brake lights, and a horn. 
Also, it doesn't have a headlight which is an ultimate requirement to be an on-road bike. Since these are not present in this Yamaha So it can't be on the street.   
Can You Make WR 250F Street Legal?
The answer depends on the place you're currently residing. In most states and cities, if a dirt bike is not street-legal from the factory. It will less likely to get permission to be eligible for public roads. 
According to Yamaha, the WR250F is designed to be an off-road bike, unlike the street-legal YZ 125 bike. So, it's not street-legal from the factory. The loud engine sound and carbon emissions are not meant for public lands. Meanwhile, Its related cousin the WR250R model is street-legal from the start.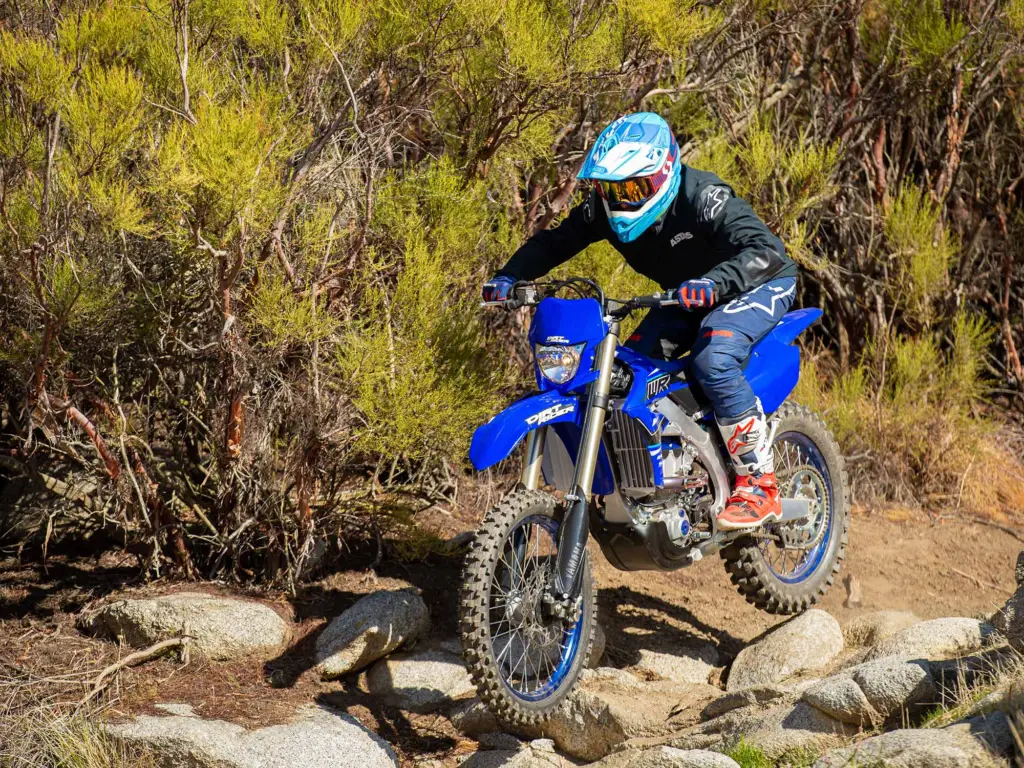 Technically, you can make WR 250F Street legal by incorporating the necessary equipment, given your municipality allows it. Also, it needs to be complying with emissions regulations. As an example, Connecticut, Texas, etc cities allow dirt bikes on public roads. 
Is WR 250F Street Legal California
WR 250F is mainly a dirt bike. So, it is considered an OHV (Off-highway Vehicle). For an OHV vehicle to be considered street-legal, it needs to have the green sticker provided by DMV. According to California laws, WR 250F is considered a red sticker vehicle. 
California Air Resources Board (CARB) doesn't consider the emission of this bike to be safe for public roads. Hence the red sticker. So, even with modding, unfortunately, you can't make WR 250F street-legal in California state.
Is WR 250F Street Legal Canada
In general, dual-sport dirt bikes are allowed to be street-legal only with proper adjustments. But the WR 250F is not a dual sport bike, rather it's specifically made for off-road terrain experience. 
Especially, the bikers of Alberta and British Columbia are advised not to go down that alteration path. Instead, they suggest buying a new dirt bike that is counted as a dual-sport bike. Then, it can be issued with a blue-white number plate to be approved for on-road riding. 
Is WR 250F Sreet Legal Australia  
Good news for the people of Australia! All Yamaha WR 250F models come with ADR compliance. Since it's a 250cc bike, you can make it street-legal. Just make sure to register it in your municipality and have it insured.
How to Modify WR 250F for Street Legal Conversion?
You can easily modify your WR 250F for street legal. This might sound tricky, but the procedure is not that hard. The process generally involves adding some specific components. The same rules apply to making Kawasaki KLX 110 street legal. Let's take a look at the modifications that are needed.
License plate, registered under your local DMV
EPA approved exhaust
DOT approved tires
Headlight and taillight
Turn signals
Side mirrors (looking glass)
A horn
Also, there are other requirements, you must perform to make this bike street legal. 
However, It's important to note that the exact requirements for street legality can vary by state or country. So, check whether they will allow it on the street even after all the tweaks you perform. For modification, always visit a professional mod-builder instead of DIY methods.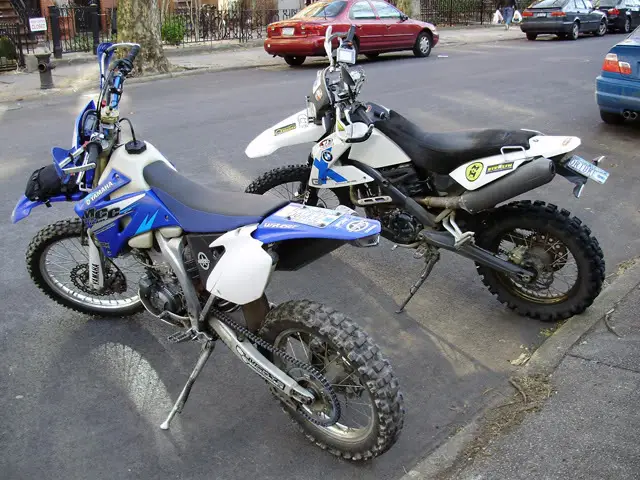 Finally, it is crucial to understand the regulations in your area before attempting to make the WR250F street legal. The best option is to contact your DMV or local municipality before attempting modification.
Frequently Asked Questions (FAQs):
What are the changes in the WR250F 2023?
The addition of the brake clipper is the newest change in the WR 250F. The braking performance of the motorcycle has been enhanced through it. That is lighter and features larger and features surface area brake pads. Also, the front 270mm disc has been redesigned to improve braking efficiency. And, a new speed sensor ring has been incorporated to provide accurate speed information.   
What does the F mean in WR250F?
In the context of the Yamaha WR250F, the letter "F" stands for "Four-stroke." The Yamaha WR250F is a model an off-road motorcycle. It is specifically designed for trail riding and enduro competitions. The inclusion of "F" in the model name indicates that it is equipped with a four-stroke engine. That is opposed to a two-stroke engine that was common in older models. 
What does the WR stand for in Yamaha?
The "WR" designation stands for "Wide Ratio" in Yamaha. A wide-ratio gearbox indicates that the motorcycle's transmission gearing is wide. A wide-ratio transmission offers a greater range of gear ratios. Also makes it more versatile and capable in various riding conditions like off-road and trail riding. 
Conclusion 
Now, you know whether is it possible to make street-legal WR 250F. 
The situation is varied from country to county. Street Legal WR 250F offers riders a capable and exciting riding experience that blends the best of both worlds. You can experience both off-road riding and public roads on the same bike.
Best wishes!