The Yamaha YZ125 is a powerful motocross dirt bike. But if you want to ride it in the streets, you must make it street legal.
So, is it possible to make a street legal YZ125? 
Yes, it is possible to make a street legal YZ125. But you need to make a lot of changes to it.  For example, you will need to add headlights, brake light, horn, mirrors, etc. Other than that, you will need to get a title for the vehicle. This can also be quite difficult depending on the papers you have.
In the next sections, we will be discussing the details about making a street legal YZ125.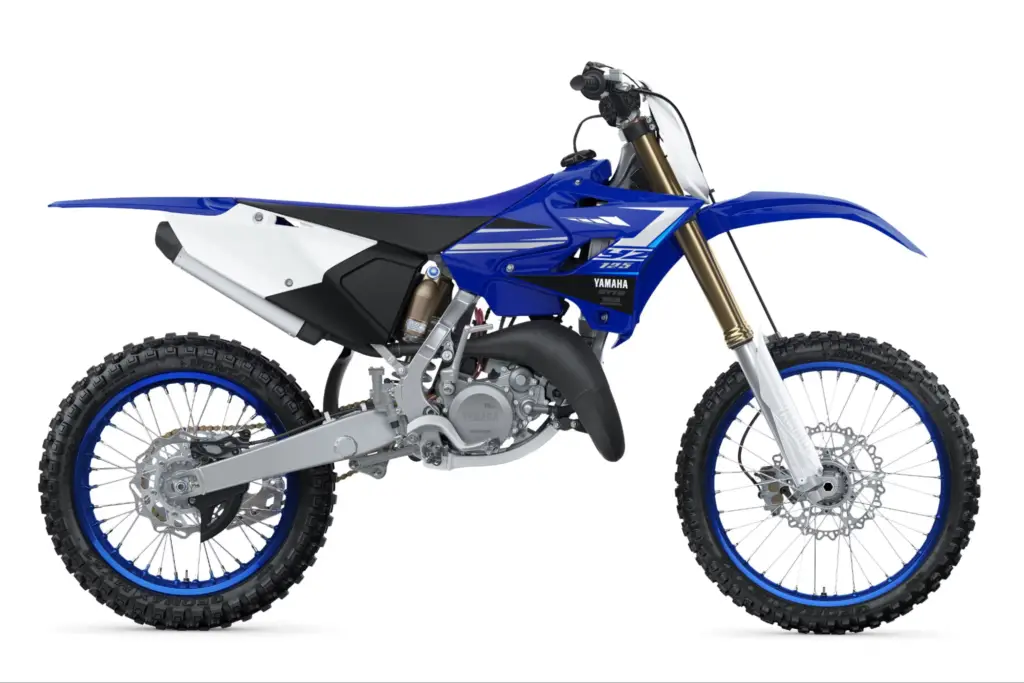 Required Changes for a Street Legal YZ125
Making the Yamaha YZ125 street legal is a lot of work. That's because you need to make changes to most of the components in the bike. These part changes are more or less required for street legalizing other bikes like KLX110. Let's see what those parts are and how to make YZ125 street legal-
Head Light
The YZ125 doesn't have a headlight and you have to install a headlight to make it street-legal. The headlight should have the following functionality:
High beam and low beam
Has to functional at both day and night
DOT approved
Indicator lights that show which beam is currently on
You can watch this video to see how to install a headlight in your YZ125-
Brake Light 
You will also need to install brake lights because your YZ125 does not have one. So, you must switch to a proper street bike brake light. Also, you need to make sure the brake light has these features-
The brake light must emit a strong red light. This must be visible from at least 300 feet in daylight. 
It must be battery powered and must operate for a minimum of 20 minutes with only battery power.
It must be DOT-approved.
Horn
Your YZ125 will also need a horn because it does not have a horn either. According to the law in most states of the US, street bikes must have electric horns. Although some states will allow a non-electric horns, but it is better to get a electric one.
Here is how you can install a horn in your YZ125- 
Brake Switch
Although the YZ125 has a brake switch, it is not upto the mark for street use. You must need a brake switch for both the front and the rear brakes. That's why you will need two brake switches to make your YZ125 street legal.
Here is a video that might help if you want to do this yourself-
Turn Signals
Turn signals are not a must in some states but it is a key requirement. Riders prefer hand signals over turn signals. But at nighttime, the turn signal will surely come in handy instead of hand signs.
Also, the turn signals must be DOT-approved.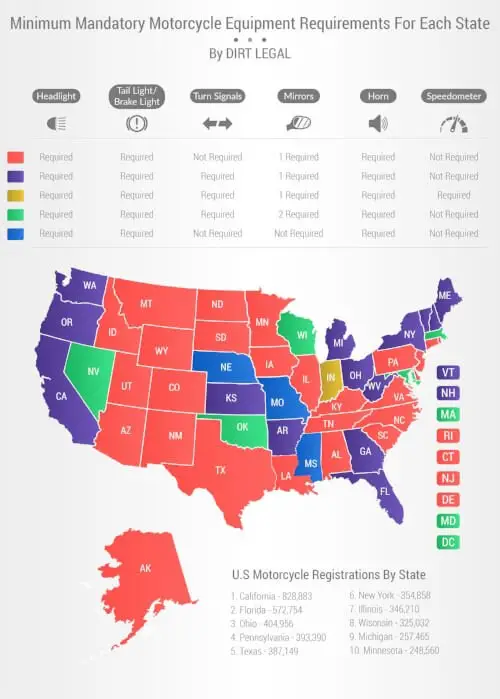 Upgrading the Charging System
As you can see, you will be adding a lot of lights to your YZ125. But your built-in electrical system is not capable of handling such loads. That's why you will need to upgrade your bike's charging system. 
The components that need upgrading are- 
Stator
Rectifier
Battery
Wiring
Once you do, your YZ125 will be handled to operate the extra lights you have installed.
Tires
Your YZ125 are specially designed for off-road use but you can use them on the road. But just because you can use them doesn't mean that you should. The off-road tires will wear more often in street riding and you will not have a comfortable ride.
That's why you must put the proper tires on your YZ125 which is highway speed rated and DOT-approved. Here is a video on how to change tires on your YZ125-
But before you get a motorcycle tire, make sure that tire is compatible with your YZ125.
License Plate Holders
Your YZ125 doesn't have a license plate. But if you want to ride it in the streets, you must need a license plate. For that, you need to install a license plate holder. 
The license plate holder will ensure that the license plate do not fall off while riding. Also, the license plate required a light so it is visible during night. 
Installing a license plate holder is a simple process, you can even do it yourself. Here is a video for you that will help you throughout the installation process-
Mirrors
Another thing that your YZ125 is missing is the mirrors. Without mirror you will not be able see the drivers behind you. This will highly increase the risk of accidents. 
Some states requires 2 mirrors whereas some states require only one. There are some states that does not consider mirrors mandatory component. But you should still add it for your own good.
Here is a video that will show you how to install a mirror on your YZ125-
Speedometer 
It is illegal in many states to ride a motorcycle without a speedometer. And your YZ125 does not have one. Even if it's legal to ride a bike without a speedometer in your state, you should have one installed. This will help you drive while maintaining the speed limit.
Here is how you can install a speedometer in your YZ125-
Kick Stand
It is not illegal to ride a dirt bike that does not have a kickstand. However, you should get one installed in your YZ125 because it will help you park your bike properly. In a dirt bike, you won't need it. However, if you are going to ride it on the streets, a kickstand will make your life easier.
Here is a video guide on installing a kickstand in your YZ125-
Get a Title 
Now, that you have made all the necessary modifications, you need to get a title for your dirt bike. Here are the basic steps of obtaining a title for your YZ125-
Obtain a bill of sale signed by the seller, including details of the transaction.
Find and visit your local title office or DMV.
Bring the required documents, such as the bill of sale and identification.
Present the documents at the title office for review.
Pay the necessary fees for title transfer and taxes.
The title office will process your request and issue a new title in your name.
Wait for the new title to be delivered to you.
No matter which bikes you want to street legalize, this step is a must. Even if you are street legalizing WR450F.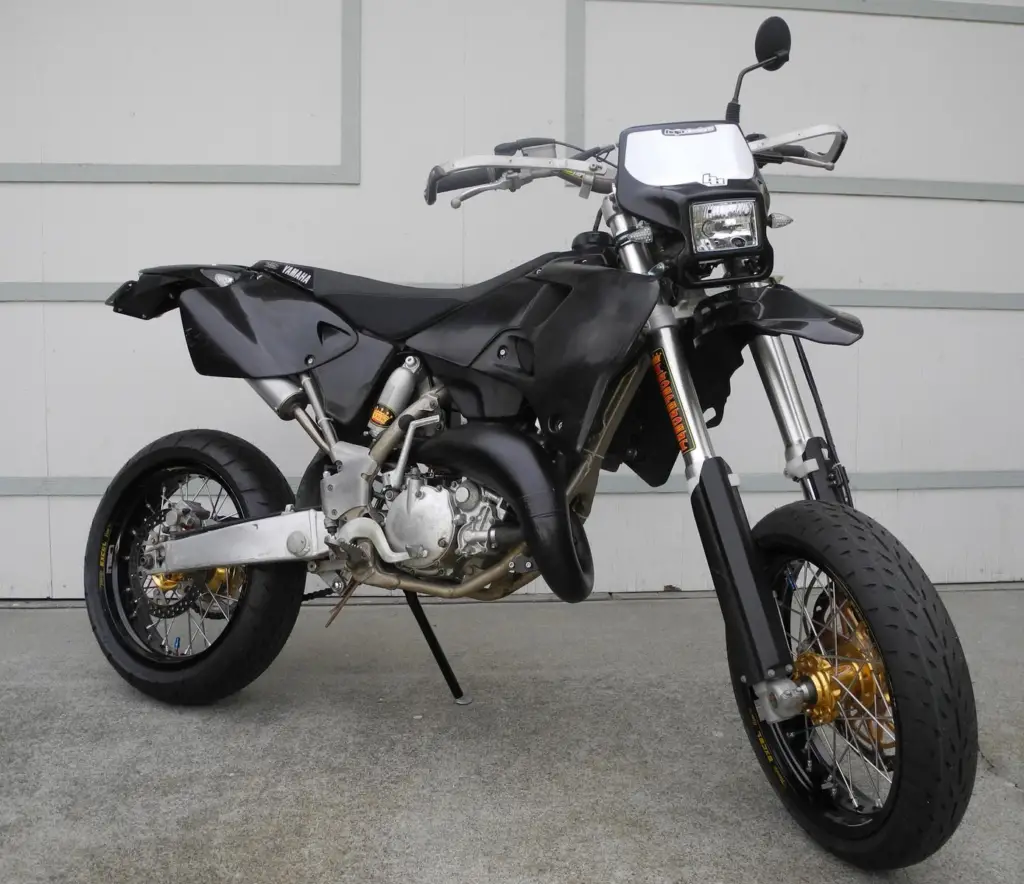 Frequently Asked Questions (FAQs): 
Is the YZ125 automatic?
No, the Yamaha YZ125 is not automatic. It is a manual motocross racing motorcycle with a five- or six-speed sequential gearbox depending on the model year. The rider must shift gears manually using the clutch and gear shifter to change gears. 
Can a beginner ride a YZ125? 
No, the Yamaha YZ125 is not great for beginners. The YZ125 is not an easy bike to ride. That's because it doesn't have much low-end torque, and the top-end power is very abrupt. The bike is very tall, which can be intimidating. 
How much HP does a YZ125 have?
The 2022 Yamaha YZ125 has a peak horsepower of 34.44. But the horsepower will actually depend on the model of the bike. For example, the peak horsepower of the 2021 YZ125 is 33.38 horsepower.
Conclusion
In conclusion, making a street legal YZ125 can be a lot of work and cost a lot of money. You might not want to put in the effort unless you're passionate about riding the streets with your YZ125.