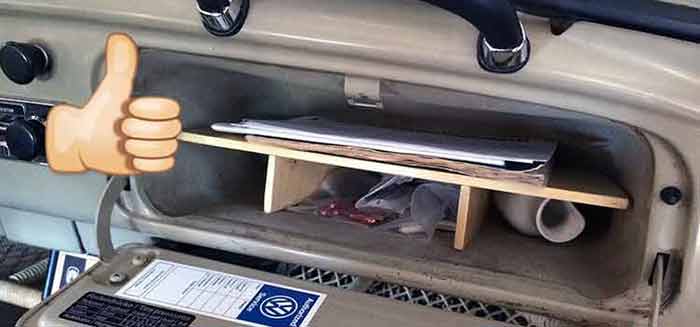 The glove box is the most important part of your car. It is like having a pocket inside your vehicle, where you keep your car-related things, like insurance and registration documents, emergency contact numbers, and your vehicle's maintenance schedule. 
Glove box (or glove compartment) clutter is something we all deal with in our lives. If your vehicle is brand new (or like a year old) then you might not have this problem. But if your vehicle is more than a year old, you have collected all sorts of papers, left-over tissues, half-gum sticks, and God knows whatnot. 
I bet your glove compartment is a complete mess if you have found this blog post. And don't worry, I am going to help you get it tidy and organized again.
So what are the Best Glove Box Organizers? Let's find out and get you organized.
Here are my glove box organizer recommendations that I have tested myself and are proven to be useful in organizing the glove box.
PlusXpres Glove Box Organizer Wallet
We earn a commission if you make a purchase, at no additional cost to you.
This glove box organizer wallet from PlusXpres is a considerable choice for anyone who is looking to clear the mess of their glove compartment and get organized.
It has five large storage pockets, ideal for storing insurance and registration documents. It also has eight smaller pockets for storing credit cards or loyalty cards, or maybe store some useful business cards of workshops.
It's a pretty large cover/wallet, and you can even store your car's manual alongside other key documents without getting extra thick. It has a dedicated slot/holder for a pen (or pen-style tire pressure gauges).
The outside half-pocket is handy and comes in great use when putting tickets and other papers that I am going to need later. Overall, this glove box organizer is a great little choice for storing foremost vehicle documentation.
The only downside I can think of about this organizer is that it can take some trouble to fit into your glove box if it is small. Also, don't forget to store your essential tools and gear for your car that you can keep inside!
Wisdompro Car Registration and Insurance Holder
We earn a commission if you make a purchase, at no additional cost to you.
This glove box organizer from Wisdompro is available in three different colors: black, purple, and peach. It has excellent build quality with durable faux leather. The stitching quality on this organizer is also tremendous and is not going to get loose or come off anytime soon.
With six clear organizer sleeves, you can store your insurance and vehicle registration documents alongside other essential cards like gas cards, concealed licenses, and loyalty cards.
The see-through plastic material is also of excellent quality, and I do not think it is going to scratch with ease if you take good care of it.
The only thing I do not like about this organizer is that there is only one full-size pocket inside. I would have favored seeing one more full-size pocket on the left side too.
For $2 less than my previous pick, this glove box organizer is an excellent buy for anyone who is looking for colors other than black/grey.
CANOPUS Registration and Insurance Card Holder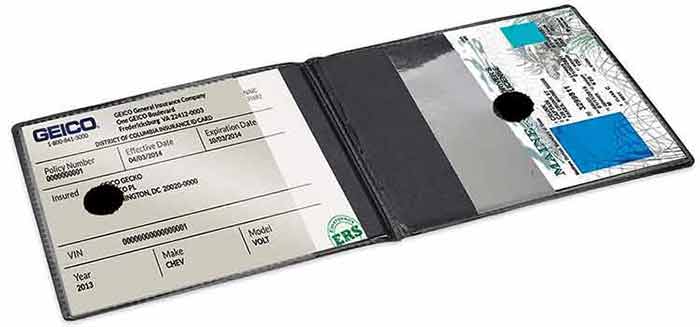 This glove box organizer wallet is inexpensive but not cheap or flimsy. It has excellent build quality and looks great with its slim and sleek design.
For under $7, you get two organizer wallets (which is not a bad deal at all), and it can easily store most US Insurance cards and vehicle registration without any problem.
This wallet protects your essential vehicle documents from wear and tear without taking up any extra space in your glove compartment.
It also comes with a 3M re-closable toll fastener that works with major toll passes like EZ Pass, Fastlane, and other toll passes. This 3M fastener is included as a free bonus with your purchase.
If you don't want to store your vehicle manual or any other document in an organizer wallet, you purely need to keep your insurance and registration documents separate from the other mess. This glove box organizer/vehicle document wallet is an excellent choice for you.
HighRoad Glove Box Organizer Folder
We earn a commission if you make a purchase, at no additional cost to you.
This glove box organizer from High Road is built solid with high-quality canvas-like material. It looks like the traditional file folder, but of course, much smaller in size so it can fit inside your glove box without taking up much precious space.
It uses a file system to organize your essential paperwork and receipts for ease of finding the right thing when you need it the most.
This organizer wallet comes with pre-printed labels for organizing your insurance, registration, service, maintenance, receipts, and coupons. And you can always print more labels yourself or get them printed from a local stationary shop.
Apart from 7 organizing compartments, this glove box organizer wallet also has two front-side cardholders, you can put your ID or any sort of other essential documents in there.
For $10 this organizer file/folder thing is a great deal. Especially if you have a lot of paper receipts and, or like to keep track of your vehicle's maintenance.
UBAYMAX Glove Box Console Organizer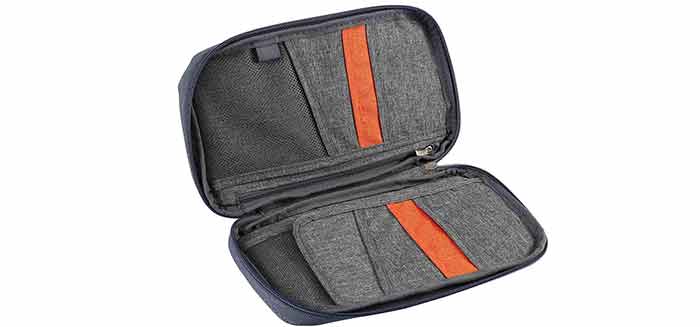 This slim and lightweight organizer from UBAYMAX is made from high-quality and soft-touch cotton/linen fabrics. It is waterproof, so you won't have to worry about your important papers and cards getting moisture damage or wet.
Its small size makes it perfect for storing in any glove box or center console, and it helps to organize your registration and insurance documents with other vehicle-essential stuff, like a tire pressure gauge.
This glove box organizer features 11 internal pockets for convenient organization of receipts, oil change records, and trip information. You can also store your car service manual in there without it bulging much.
You can even store an emergency cell phone in there, and it has a thoughtful outside storage pocket for things that you need quick or frequent access.
The zipper on this thing is also very high-quality and is not going to break anytime soon. The zipper also ensures that your documents won't go flying inside your glove box in accident.
I think this glove box organizer is a must-have for all drivers out there and could also make for a great gift.
Samsill Registration and Insurance Card Holder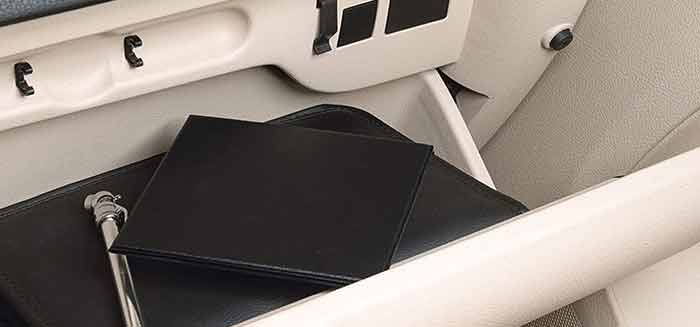 This glove box organizer from Samsill is a must-have for every car or truck driver. It allows you to organize your insurance and documents in a quick, easy-to-reach way. It can be stored aside in your glove box or your center console without taking up much space.
And the best part is, it comes in a Pack of 2. It is convenient if you have two vehicles, like one car and one truck.
This glove box organizer wallet is the same size as my previous recommendation, but I like it more because of its stealth appearance.
Build quality is also excellent with high-quality fabric and faux leather on the edges. The inside pockets are made from high-quality PVC vinyl.
Overall, this is a great little organizer and essential for road trips, where you might need to organize your toll passes and other important vehicle records.
Vehicle OCD Glove Box Organizer/Divider
We earn a commission if you make a purchase, at no additional cost to you.
I have been using this glove box organizer without even knowing what it is, or how useful this thing is until I broke mine off.
Then I went out on Reddit to see what it is called, and I finally bought it (again) to reorganize my truck's glove box.
This thing is simple, like really simple. It is just some plastic dividers sandwiched between two sheets of plastic, but still, it is the most useful plastic you are ever going to buy.
This specific one I mentioned is for Toyota Tacoma, but you can find it online for almost every vehicle you can think around.
I would highly recommend this organizer/divider to anyone who is looking to re-think their messy glove box. Vehicle OCD also sells these dividers for center consoles.
JDMCAR Glove Box Insert
We earn a commission if you make a purchase, at no additional cost to you.
This glove box organizer insert functions the same as my previous recommendation, but it has a trick up its sleeve.
You can organize and re-arrange the compartments to your liking, and this could be a huge deal breaker if you want to put in a wallet or pouch-style glove box organizer.
The build quality is excellent as it is made from high-quality plastic. It fits my Tacoma like a glove, and unlike other offerings on the market, it does not rattle inside when driving.
Re-arranging the divider inserts is simple. You need to pull the divider out and slide in the slot until it clicks. The mechanism is so simple and functional that it adds a whole lot of value to the system.
JDMCAR also has the installation video on their website, or you can scan the QR code that comes with the product.
In a nutshell, this is a great glove box organizer and will surely full-fill your OCD needs.
Why you should trust me?
I have bought all of these glove box organizers and inserts myself to test these and find out the best. I even tested many flashlights for car gloveboxes too!
Organizers vs Inserts: Which one's best for you?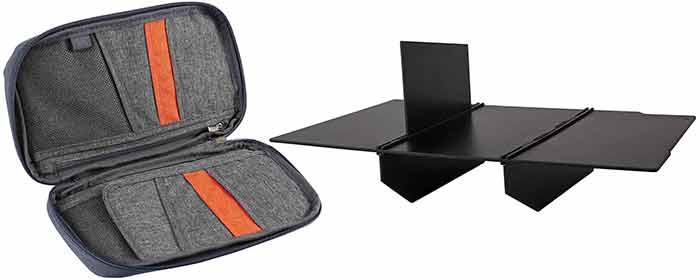 Both organizers and inserts let you declutter your glove box to make finding things easy for you. It gives you more confidence and enables you to be more productive in your everyday life.
Inserts are plastic dividers that you can "insert" in your vehicle's glove box or center console to divide it into several parts or sections. It lets you organize things so you can find what you need a lot easier.
On the other hand, glove box organizers are like little pouches (or pencil boxes) with dividers and pockets inside them. They are made from fabrics or faux leather. They also have several pockets inside them to store your insurance, registration, vehicle maintenance record, and other useful information that you might need on the road.
The other big difference between glove box organizers and glove box inserts is the type of stuff you can store and organize in them.
Pouch (or wallet/folder) style glove box organizers are best suited for storing and organizing essential vehicle documents, and user and service manuals.
But if you go for glove box inserts, you can put anything that fits there. Like you can store your extra pair of glasses, tire pressure gauge, extra iPhone charger, or maybe a toy for your pet to calm him while on the road.
Which glove box organizers/inserts do I use?
I use both (organizer pouches and inserts) to organize my mess in my vehicles. For example, in my Toyota Tacoma, I have installed JDMCAR's glove box insert to divide my glove box into 4 compartments.
I store my vehicle documents in two different organizers. I store my registration and insurance documents in Samsil's Wallet-style card holder, and for my vehicle's manuals and other maintenance documents, I use HighRoad's glove box organizer.
I find the ease of access of wallet-style organizers to work best with insurance and registration documents. I feel more confident knowing where exactly is my vehicle's registration if I ever get pulled over on the side of the road.
In the end…
Organizing your vehicle's glove box might feel like a really difficult task but it's not. These glove box organizers are a great way to start organizing the stuff, that you would otherwise throw in your glove box, and would never find again.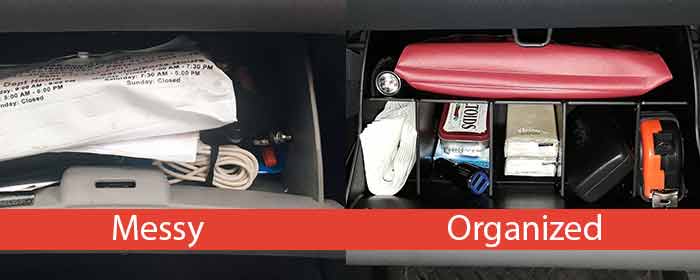 And trust me, these organizers are far better than using Ziploc bags. I have used those to store spare keys, flashlight, screwdrivers, etc. They work sometimes but they are not the best solution for organizing your glove box.
Glove box organizers are cheap, work great, and probably are going to last you a long time if you do your research before buying them.
If you have any questions about glove box organizers or think I have forgotten about something, please comment down below. I reply to all of the comments.