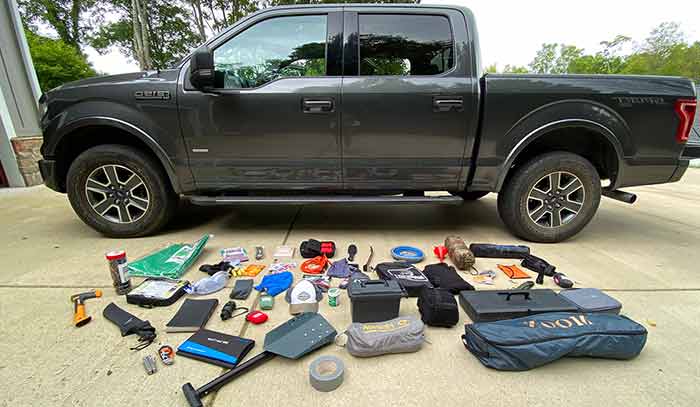 Let's be honest. You can not avoid the unforeseen.
I want you to be ready for all the difficult times when outdoors and get stuck somewhere. Or, you find someone who requires some help.
I am assuming that you already have bare essentials in your vehicle. Like your license and registration, first-aid kit, a bunch of facemasks, hand sanitizer, alcohol/wet wipes, water bottles, granola bars, spare change, used napkins, and some leftover food.
So this list will only include the other tools and gear you might consider carrying in your vehicle.
Let's start.
Foldable shovel (or a snow shovel if you live in an area where it snows a lot)
I love foldable shovels because they work wonders in removing moderate amounts of snow. They are small enough to be stored in the trunk without taking much space.
This specific one from SOG is my favorite because it also has a wood saw and comes with a high-quality carrying pouch.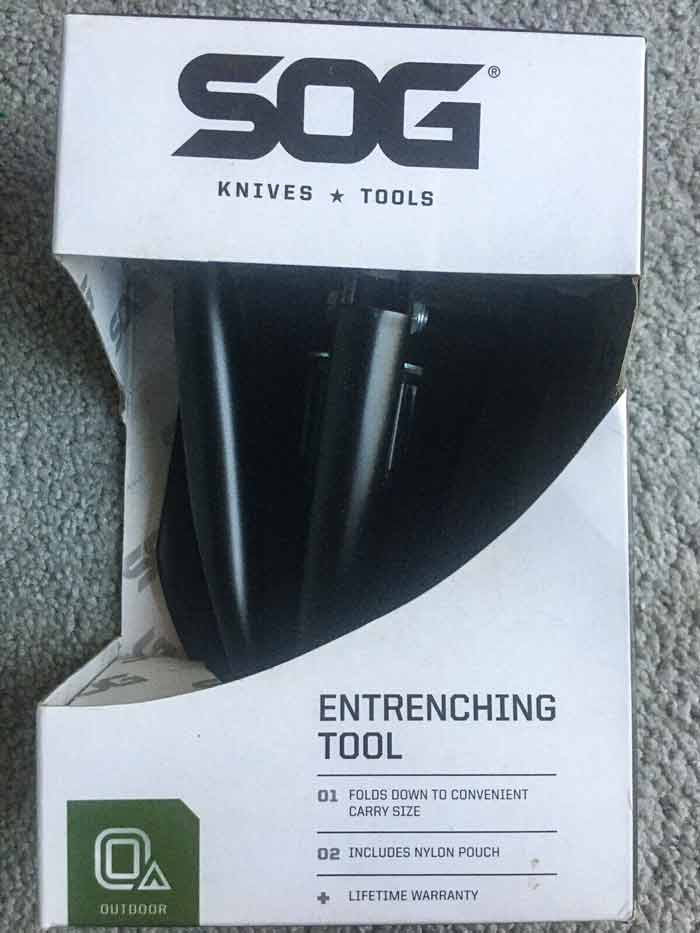 This folding shovel costs around $25 on Amazon.
I bought my original 2-years ago, and it has been in my vehicle since then. I have used it to remove snow and cut branches. Recently I have bought a second one to give to my wife. It is an excellent multi-tool but not a "real" shovel in my opinion.
If you live in an area where it snows a lot, do not buy this foldable shovel. It is not very efficient in removing lots of snow, and the handle can get bent. Instead, I would recommend you to buy snow shovels that are designed for storing in cars.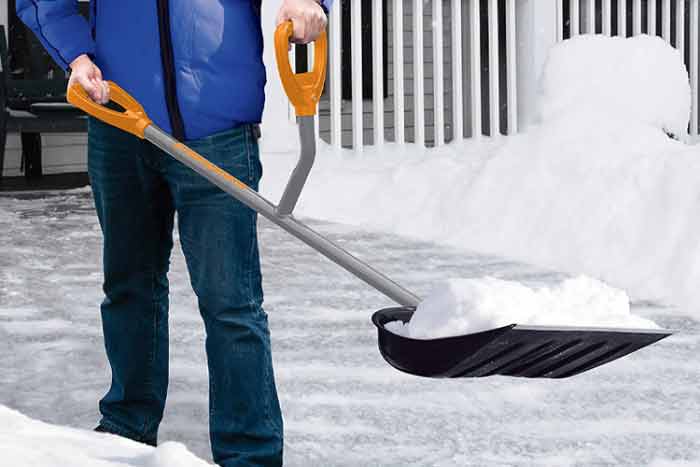 This snow shovel is under $30 on Amazon. It is small enough for storing in your car and does not have sharp edges that might damage the tire. It works great for removing snow near tires and under the vehicle.
Fully charged jump starter pack
No one likes a dead or a weak battery. And having a jump-starter is the answer to that problem. More specifically, a charged one. Or you will have two dead batteries.
You need to take out your jump starter, connect it to your car's battery, push the button, and start your car like normal. Nothing to worry about, and the whole process takes less than 3 minutes.
I have seen some jump-starters that are cheap and get the job done. But they are bad at holding their charge over long periods.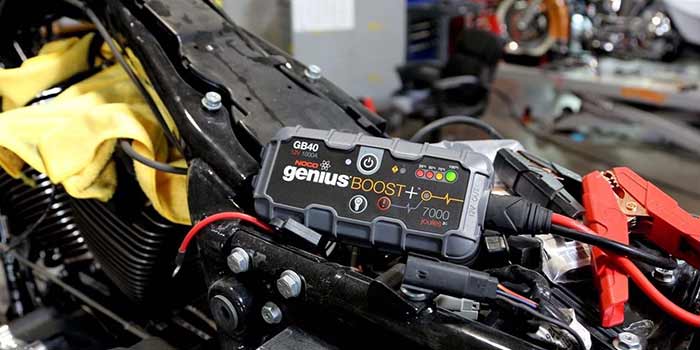 I would suggest you buy Noco GB40. It holds the charge for longer, has all the safety features, and is powerful enough for most people. This jump starter costs around $100 on Amazon, but I have seen it as low as $65, which s a steal.
If you think you need a more powerful jump-starter than Noco GB40, go check out my blog post where I tested and reviewed 19 jump starters.
A set of old-fashioned jumper cables
Having a jump-starter pack is nice, but you never know when you need those old-fashioned jumper cables.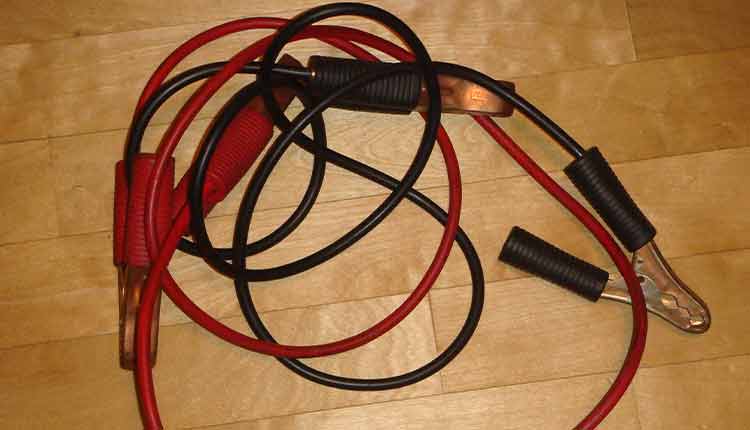 I have had a retractable jumper cable set in my car for around 4-years and used it more than a few times.
I can not find the exact one I have, but you can find a bunch on Amazon for really cheap. You should always check the gauge and length of the jumper wires that you are going to buy.
Ideally, a 10 feet length and 8 to 6 gauge wire thickness is enough for almost every car. Unless you want to jump-start a monster truck. Then, good luck my friend!
Inflated spare and jack stands
Some people might argue that the chances of having a completely flat tire are very slim or none at all. So why carry an inflated tire? I agree with those people.
But, do you know that chances of getting a flat tire are higher in winter than in summer? It is because cold and harsh winter weather affects the worn-out or old rubber on tires the most.
The cold could cause the rubber of your tire to get hard and crack. And, this could result in a very flat tire situation.
If you are like me, you would probably prefer changing the tire yourself. And having an extra inflated spare and a jack is handy alongside other simple tools like a socket set and torque wrench.
I recommend these aluminum jack-stands above others.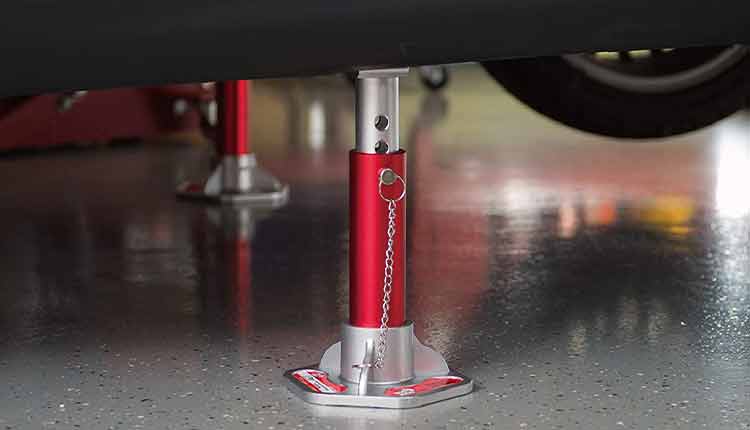 These are expensive at around $100 on Amazon for a pair. Unlike some other jack stands, these do not have any welds or structural weak points, so you know they are not going to fail anytime soon.
Secondly, I would only recommend you to carry a spare and jack if your tires are old or you know that you are traveling to a place where you are likely to get a flat tire.
An instant tire repair kit
Carrying a flat spare is not very convenient. Especially if your car does not have space for a spare. For those situations, I would recommend you a Flat-Out instant flat tire repair kit.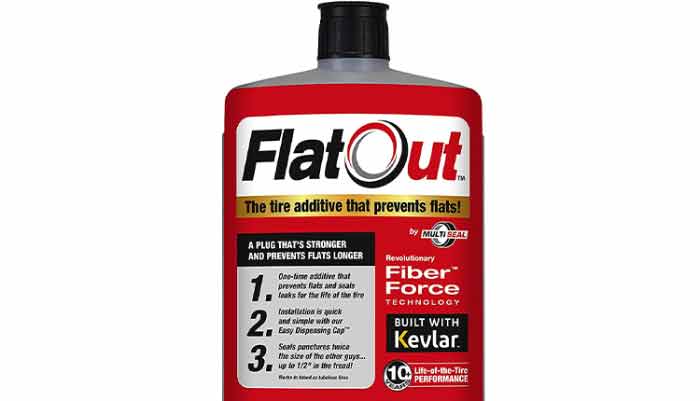 I recommend the FlatOut (previously known as Multi-Seal) tire repair kit because it does not cause any rusting or damage to the aluminum-alloy wheels. And it does not freeze in cold temperatures. You can purchase it on Amazon.
I have linked to the trailer one, because it works better on cars and SUVs than the off-road stuff. I have been using this for quite some time now and I am happy with the results.
Auto shops are also not going to get mad at you for using this stuff because, unlike others, this stuff is super easy to clean.
Please note that this is not a permanent solution. You will need to get your tire fixed by a professional repair shop within 3-days or 100-miles.
Portable 12v tire inflator
You definitely will need a portable air compressor to inflate the tires when changing the tire or using instant tire repair kits like FlatOut.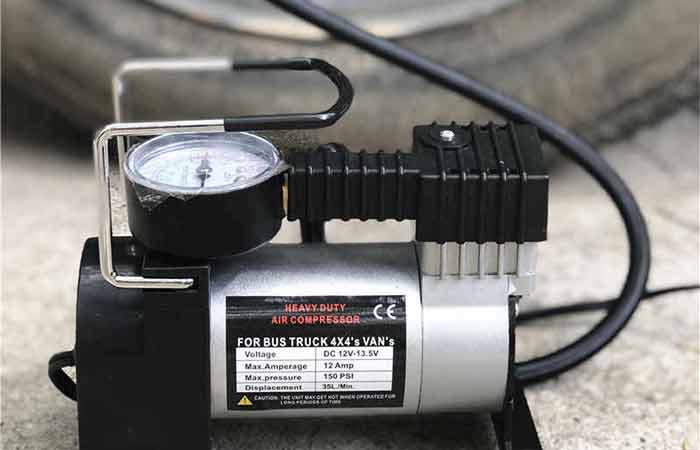 One good thing these are not expensive at all, and they work flawlessly. I have had over a dozen portable tire inflators over the last 10-years, from the battery-powered to the ones that operate directly to the cigarette lighter output of your car.
I will never recommend you to buy a battery-powered tire inflator because I know you are not going to charge it. Instead, I would recommend you to go with a 12V powered one.
So, you do not need to charge it to use it. Just plug it in your cigarette lighter adapter, and you are good to go.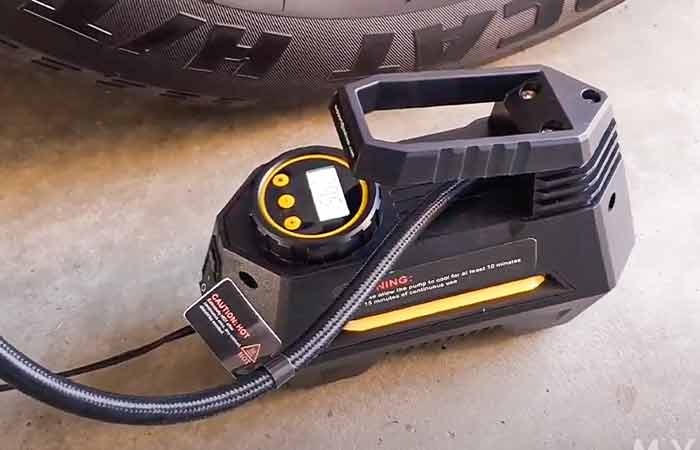 I recently bought a tire inflator from AstroAI, and I love it. It has a digital pressure gauge built-in. So you will only need to connect it to your tire, set the desired PSI, and turn it on. Once the tire has reached your desired PSI, the inflator will automatically turn off. It is that simple to use. It costs just $26 on Amazon. Not expensive, right?
Note that these portable tire inflators are not super-fast and will take some time to fill your tire.
Socket set and torque wrench
You do not need the whole socket set with every size socket in it. Most quick jobs that you might do on your car outdoors only require a 10mm socket.
Lug nuts are a different story. Each manufacturer uses different-size lug nuts. The most common sizes for lug nuts are 17, 19, and 21mm.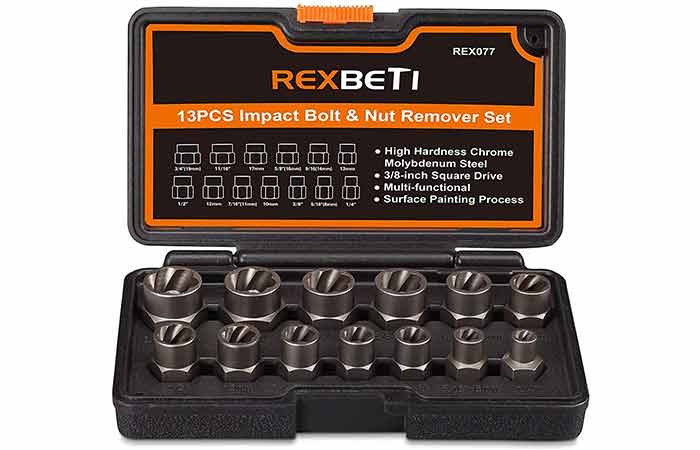 I recommend this socket set from REXBETI. It only costs $25 on Amazon and has all the typical sizes you would need to work on your car.
A torque wrench is not necessary, but I prefer using one. It allows me to tighten the nuts and bolts to the spec, so I do not have to worry about it later. I have been using this TEKTON click-torque wrench which costs $40 on Amazon.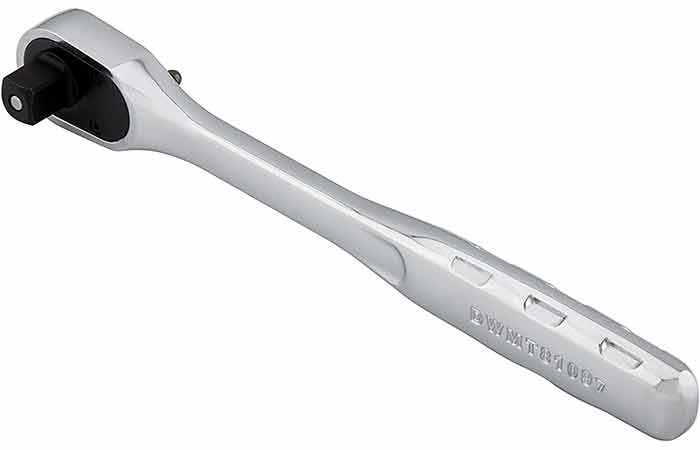 And, if you want a simple wrench, I can recommend this Dewalt ratchet wrench for $23 on Amazon.
Good quality multi-bit screwdriver
Keeping a screwdriver in your car is very handy. And you never know when you need one.
I recommend one that has interchangeable bits. These are more compact and perfect to throw in your glove box without taking much space.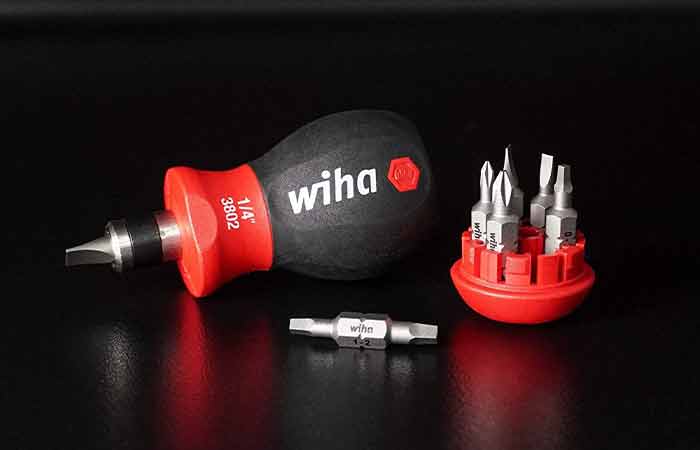 I have this Wiha 38090 multi-bit screwdriver that I keep in my car at all times.
It is compact and has almost all the size bits that I ever need. I found the bits to be precise and of high quality, so they do not damage screw heads. And the best part is that it costs less than $20 on Amazon.
If you think Wiha 38090 is too small to use comfortably, then this Wiha 77891 multi-bit screwdriver is going to be perfect for you. The quality is the same, and the only difference is in its size.
Whichever screwdriver you buy, please stay away from el cheapo Chinese crap. Their bits are not very precise or made out of poor-quality materials.
They will damage the screw heads, and you will have a rough time getting those screws removed.
Hammer
Every tool is a hammer until you use a real hammer.
Just have a decent-quality hammer in your car. It comes in handy in a lot of jobs and situations.
You do not want to spend a ton on a hammer. After all, it is just some weight attached to a stick.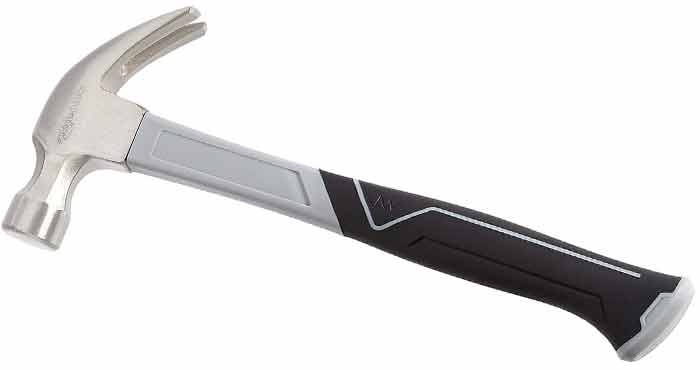 I recommend this basics hammer. It is decent enough to be used for most everyday jobs that you might encounter.
Tow / Recovery Strap
Tow chains or tow straps are a must if you live in a place that gets a lot of snow. You can get any kind stranger to tow you out, or you can tow someone out if they get stuck.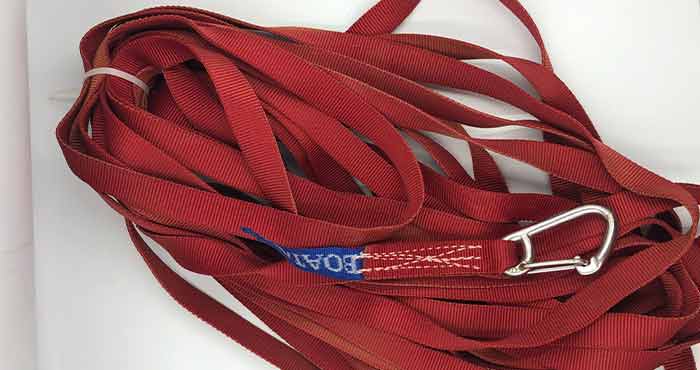 It's just a super simple thing to have in your car and a way to feel like a superhero.
I have an old two strap which I can not find online. I recommend this tow strap from Rhino USA.
Emergency Blankets
I love these Swiss Safe NASA emergency blankets. These are dirt cheap and work flawlessly.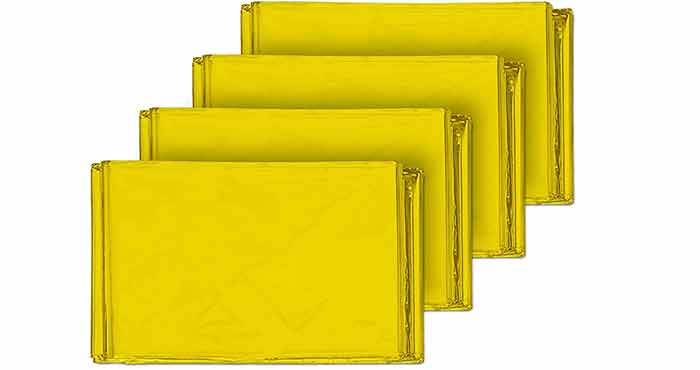 They cost around $27 on Amazon for a pack of 25. These specific ones are water and heat-proof. So you might get a little damp from body moisture. I have used these a lot in winters to camp outdoors.
I always have half a dozen in my car and hand these out to random strangers to those in need.
Something to start fire with
I keep flint, matches, and lighters in my car all the time. They are cheap and a great way to start a fire anytime, anywhere.
I do not have any specific recommendations, but I recently found this reusable match lighter on Amazon. I have been testing it, and so far, I love it.
I have found that it is best to use Zippo lighter fluid with it. Other lighter fluids might cost less, but they cause very unpleasant smoke, which I don't like.
Work gloves
I recently read a comment on Reddit that said: "torn leather gloves are better than a torn finger."
A decent pair of work gloves is not expensive at all when you think about it. If you know you are going to work on your vehicle, you must take safety very seriously.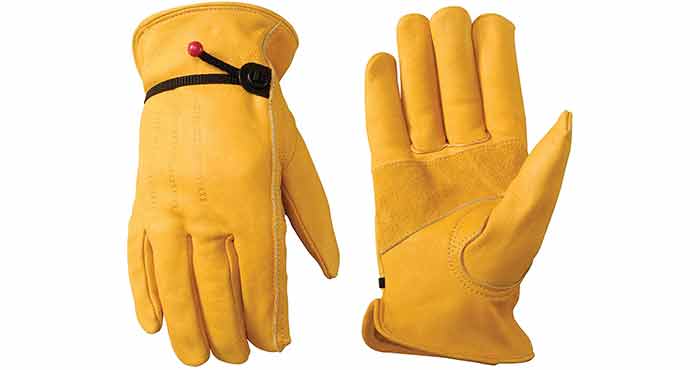 I would recommend these work gloves from Wells Lamont. They cost around $15 a pair on Amazon and provide a lot of protection for working on automotive.
I usually keep a new pair in my vehicle at all times.
Spare socks and shoes
If you live in a dry climate, this might sound stupid to you. But coming from a place where it rains 70% of the year, I would definitely recommend you to keep spare socks and shoes in your car.
And not only spare socks and shoes, but a bunch of breathable bags to store the old ones.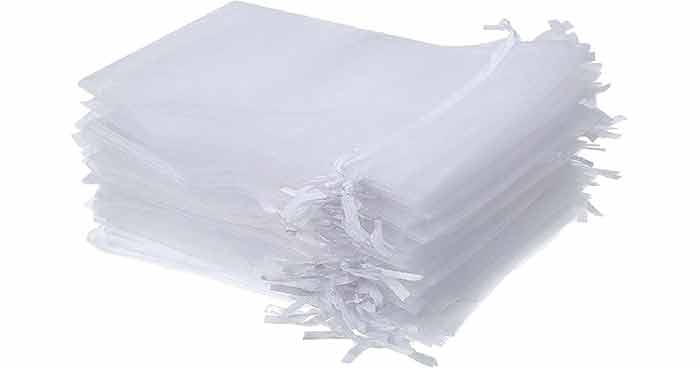 I use these drawstring organza bags that cost around $10 on Amazon. These are disposable so you just throw the old ones away after you are done with them.
Do not use standard air-tight zip lock bags as you are going to ruin your shoes and socks. Store them in a nice breathable place and get them washed and dry as soon as you can. Or your whole car is going to smell like smelly feet.
Flashlight
Now you might argue that why would I need to carry a flashlight when my phone has one?
Well, can you guarantee that your phone will always have enough charge all the time?
A flashlight makes more sense because I can rely on and trust it more than my phone.
There are magnetic flashlights that you can stick to any metal surface while you work on your car. Some flashlights take ordinary AAs or AAAs. So you can throw some spare batteries in your glove compartment, and you are good to go.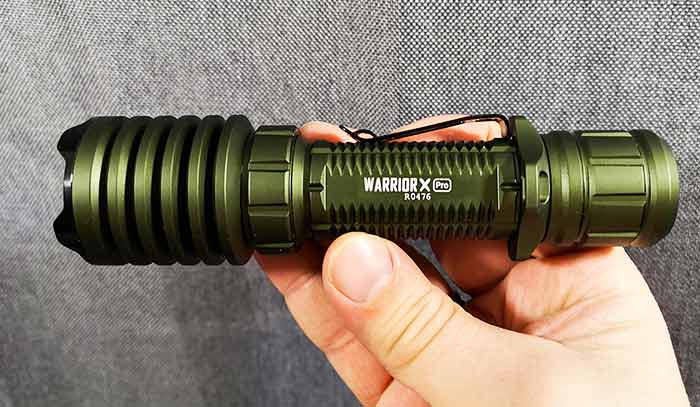 I have been carrying an OLIGHT Warrior X Pro for more than a year now.
This flashlight has excellent build quality, sufficient light output and range, and super-long battery life.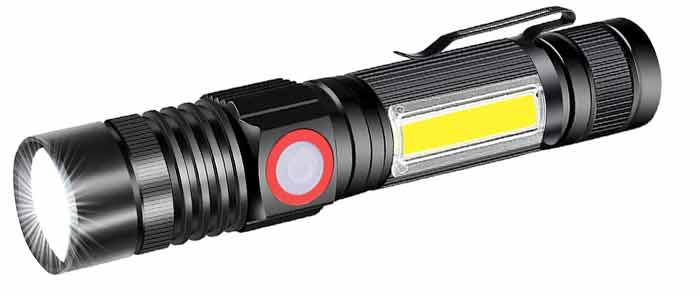 But you do not have to spend that much on a flashlight. It has good reviews and I just ordered a bunch of them to test out and throw in my vehicles. You can pick any of the best flashlights for gloveboxes from my reviewed list!
Paper road maps
For the same reason why you should have a flashlight, I recommend you to get paper road maps of your town or the place where you plan on visiting.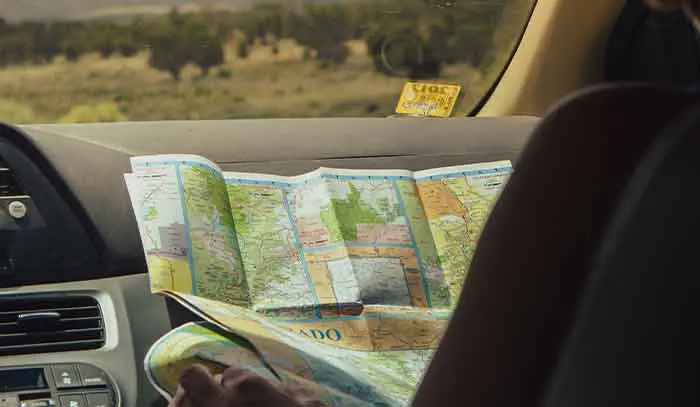 I love the old-school way of looking at a map on your bonnet. You won't be getting your fancy traffic alerts on these. But they sure look cool and more dramatic than checking maps on your phone.
Throw these road maps in your glove box, and you are good to go.
And if you feel like your glove box is getting messy with too much stuff. You can buy a glove-box organizer.
These organizers are cheap and do a fantastic job organizing your stuff. I have mentioned some of my favorites in this blog post.
Finally
I had a few other recommendations too on my list. But I thought they might not make a lot of sense for most of you guys. I am a tool nerd, and I love to keep almost every kind of tool and gadget I can fit in my car.
My only problem is that I have 4-cars, so I sometimes forget to move everything over.
And, if you guys want to see more tool/gear recommendations from me or have a gear suggestion. I would love to talk about it. Please leave your comments below.