The very first question everyone has about tinting their sunroof or moonroof is:
Will a tint shatter my sunroof or moonroof?
No tinting isn't dangerous for your sunroof or moonroof at all and will not shatter it out of nowhere. It is probably the safest thing you can do to stop the glass from shattering into a million pieces, in case of an accident or a small flying rock hitting the sunroof while you are on the road.
This is why windscreens are made from laminated glass.
Here are the best tint films that I would recommend for your sunroofs or moonroofs.
Lexen Carbon Tint Roll
This roll of 20 inches by 10 feet roll of tint film would be perfect for tinting the sunroof of your car. It has carbon particles in it which gives it a dark matte look and won't fade or shift color. For less than 20$ you can't go wrong here.
We earn a commission if you make a purchase, at no additional cost to you.
---
MotoShield Pro Ceramic Tint Roll
This tint film is made from non-conductive ceramic particles that are really good at blocking heat. This tint film is a great upgrade over carbon while still being affordable at 30$ for a roll of 20 inches by 10 feet.
We earn a commission if you make a purchase, at no additional cost to you.
Let's bust the myth.
This all started from a poor vehicle design that led to the cracking of moon-roofs/sun-roofs. Instead of recalling and fixing the flawed design, they started blaming the tint film that was applied to the glass to be the whole cause of glass breaking into a million pieces.
Tinting your sun or moonroof will cause it to explode is one of the biggest lies that tint shops or even car manufacturers tell you to get you off.
Why tint shops do this:
Not all tint shops tell these kinds of stupid lies. There are a lot of genuine car tint shops that install tint films on moon-roofs and even cover them under warranty. I have talked to a lot of tint shops and they said they have never seen any sunroof glass to shatter because of the tint film that was installed on it.
On the other hand, some tint shops are straight out unwilling to do them because tinting a sun or moon roof is a pain in the eye. The tint installer has to get inside the car and sit in an uncomfortable position to get under your sunroof or moonroof to install the window tint.
This is not a comfortable position to be in. Your neck gets sore very easily.
And when you spray soapy water to install the tint film, it is going to fall in your eyes. No one wants to get blinded by soapy water. So tint shops just tell things like, "yeah we don't tint your moonroof/sunroof because you know it will shatter it."
That;s why it's always a great practice to know everything about car tints yourself. That way you won't have to worry about misconceptions and lies!
Let's talk about car manufacturers:
Let's talk about glass used in sunroofs or moonroofs. Sunroofs and moonroof are made from tempered glass or (very rarely) laminated glass.
Tempered glass is made by heating and cooling a sheet of glass to change its properties in a tempering furnace, hence its name. This treatment makes the glass very strong and also breaks into tiny pieces so it won't hurt or injure someone as much as a regular glass does if it breaks.

Laminated glass is made by sandwiching a sheet of laminate (a plastic film) between two panes of glass. Usually, laminated glass is used in windshields. This holds the glass together in case of an accident so the driver does not get blinded by pieces of glass flying towards him.

The glass on the roof is often held by two beads of a strong and high strength adhesive. When a car going too fast takes a corner, the body starts to flex. This results in a lot of pressure on the roof and the glass breaks, as it is the structural part of the car frame. This is usually a result of a flawed design.
If a sunroof breaks in a car, it is never because of the tint but because of the quality of the glass, manufacturing defect, or a flawed design. Usually, manufacturers don't want to take the blame. So they usually put it on the tint or any other window treatments.
And it is really, really rare for a glass to shatter casually.
Teslas have one of the largest sunroofs of all vehicles and:
They get tinted all the time.
The glass does not crack.
Tesla doesn't say it's bad for the glass or will shatter it.
Even though there are a lot of tint shops that install tint films on sunroofs of Mercedes, Audi's and several other cars. I spoke to these tint shops and they said they have never heard of tint film causing sunroof or moonroof glass to crack.
In short, window tint film will not cause the glass to break unless it had a defect in it. The defect might be from the factory or a small chip from a rock. Or maybe a flawed design from the car manufacturer.
---
What about me? Do I tint my sunroof?
Before you can actually take the decision to tint your car, you should obviously know about every state's car tint law, Otherwise, you will face severe consequences. If you are aware of that, feel free to hear about my journey.
I have tinted sunroof on my Toyota 4Runner for about 9 years now and haven't had any problems. I don't remember the exact VLT that I went with but I think it is around 20ish.
Recently, I got my friend's sunroof on her Subaru and she loves it. She even said: "I wish I got it tinted 4 years ago when I got the car."
She used to keep the shade closed and now she doesn't even use it.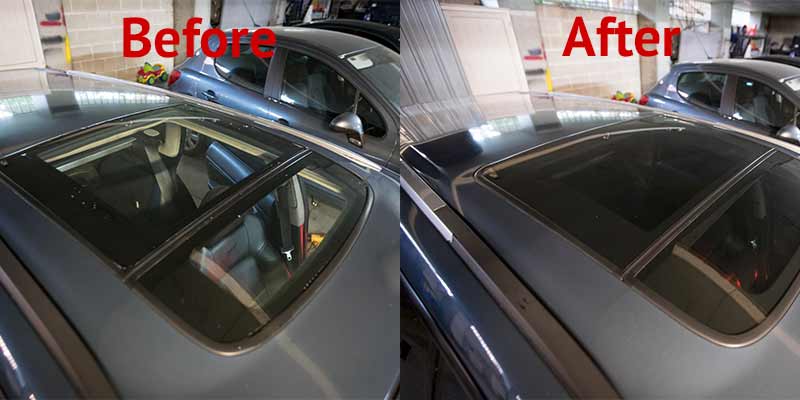 My friend who has a tint shop has done thousands of sunroof tints and has never heard about sunroof glass cracking due to window tint.
I have tested a lot of window tint films and found some really good that are worth your money. Do you want to find my top pick? Here is my review.
---
Reasons to tint the sunroof or moonroof:
Blocking harmful UV light.
Most sunroofs are treated so they block most of the UV light and a little bit of the heat. But if your car is older or does not block UV from the sunroof. Installing a tint film might be a good option.
Heat and Light.
I guess we all like to be cool and comfortable in our cars. Sunroofs have shades in them but they are mostly kept closed because the amount of direct sunlight and heat can be uncomfortable. Installing a ceramic tint film can block the heat and if you go for a darker shade like only 5 of 10% VLT, it is also going to block most of the sunlight coming in.
Safety.
Road chips are real and unfortunately very common. If your sunroof gets hit by a flying rock it might chip and crack. A tint film can hold the glass together and won't let it fall on you. And no one wants to be in a shower of glass pieces when they are on the road.
What is the law about sunroof tinting?
Luckily there is no law this time. You can go as dark as you want or possibly can. I would go for a 30% tint because it blocks most of the light in the daytime and you can still see the stars at night.
If you like to leave the shade open and enjoy the view, I highly recommend you get your sunroof tinted. You can easily drive around on a sunny day and don't need glasses. A 30 percent tint is a good choice, it will reduce the amount of light coming in on a sunny day and won't affect your stargazing during the night.
What tint should I get for the sunroof?
If you are on a tight budget, go for a carbon tint.
Lexen Carbon tint film roll
This carbon tint from Lexen is a great choice, it blocks all of the harmful UV rays and is durable. It won't fade, shift colors or bubble up. This carbon tint also blocks a noticeable amount of heat.
We earn a commission if you make a purchase, at no additional cost to you.
You will need to cut this tint to match the size of the glass you are installing it on. It shrinks nicely to conform to the contours of the glass you want to tint.
This tinted film also includes a squeegee and a blade. The blade is really not good and breaks easily. Just buy a nice blade separately.
For the price, you can't beat this tint film.
Key features:
2Ply carbon technology.
1.5 mm thick.
Blocks UV (UVA and UVB) rays.
Shades available from 50% to 5% VLT.
Thousands of patterns for vehicles made during 1990 to 2019.
Easy to install.
Included in this tint kit:
20 inches by 10 feet roll of high quality carbon tint film.
A squeegee and a blade.
---
MotoShield Pro ceramic tint roll
This ceramic tint film is a really great upgrade for 10$ over the previously mentioned Lexen carbon tint. It has nano ceramic particles that are really great at blocking heat and harmful UV rays.
We earn a commission if you make a purchase, at no additional cost to you.
If you want the best: go for a ceramic tint. As sunroofs face a lot of sun you want your tint to be durable so it won't fade or shift colors. Thanks to the nano ceramic technology, this tint film from MotoShield is really a perfect option for sunroofs.
For 30$ you get a roll of 20 inches by 10 feet of ceramic film which should be plenty for your sunroof. MotoShield Pro also sells bigger rolls like 100 feet. But you don't need that much film.
Key features:
Shades available: 70% to 5% VLT.
For SUVs, Mini Vans and Trucks.
Only 2mm thick film.
Superior Solar Protection: Blocks UVA, UVB and IR.
Does not affect with radio/GPS/cellular signals.
Will not fade or shift colors.
Easy to install.
Included in this tint kit:
A 20 inches by 10 feet roll of ceramic tint film.
Don't ever go for dyed tints. Sunroofs get the most sun and dyed films will fade in just about 2 months if not less.
Where to get sunroof tint installed from?
I would recommend you get sunroof tint from a professional. You can do it yourself but it needs a lot of elbow grease and practice. Going to an installer is a better option. It will give you a better job with the potential of saving some money because chances are your first DIY tint job on the sunroof isn't going to be something you want to keep. Also, you can also get the usual warranty and questions answered right there.
If you live in California, AcutintPro is a great place to consider when getting tints installed. I found them on Yelp when looking for a tint shop for my in-laws. This place has a lot of 5-star reviews on Yelp. Everyone is talking about the quality of customer service and the work they do. The biggest thing is that they are honest, if you don't need a tint, they will tell you upfront instead of charging you a tint job. 
MotoShield Pro is also a great place to get your cars tinted and get a lifetime warranty on your tint. 
When choosing a professional tint installer, make sure it has a lot of positive reviews online from their previous customers. Just google their business to get an idea of their service. Also, make sure they know what they are doing and are skilled in the type of tint install you need.
Sources:
Consumer Reports: Exploding Sunroofs
TeslaMotorsClub: Cracked sunroofs caused by tints?
Glass.com: Causes of sunroof explosions